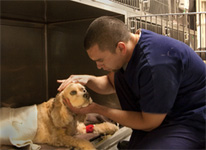 If your pet should become too ill to be cared for at home, we offer hospitalization. All patients are carefully monitored for changes in body temperature, appetite, urination, bowel movements, activity level, and vital signs.
Animals requiring intravenous fluids to correct dehydration are placed on digital fluid pumps to safely deliver a precise rate of fluids per hour.
For the most critical patients, we have a state of the art incubator to control environmental temperature, humidity, and oxygenation.